Jensen Private Investigations is a private detective agency providing support services to customers involved in criminal actions or civil court actions, or customers who just need peace of mind.
If you are facing criminal charges or you are entrenched in a lawsuit, let Jason K. Jensen's over 20 years of investigative experience, criminal defense and civil litigation experience benefit your case and save you money. In addition to field experience, Mr. Jensen is college-educated in the industry. He has a master's degree in criminal justice from Colorado Technical University. His educational background also includes paralegal studies in the 1990s, studying the law before there were criminal justice degrees.
Why Jensen Private Investigations?
First of all, all consultations are free, so you have nothing to lose by calling today. Moreover, there is a clear advantage to hiring a degreed-investigator. Investigators who are college educated tend to conduct more thorough investigations, are better disciplined investigators, and write better reports. Just as Philip Carlan explained in a December 2006 article in Law & Order about college-trained police officers, college-educated private investigators execute their duties with more proficiency and less liability, while demonstrating better social skills in their interactions. (Carlan, 2006, pg. 60). It is well-recognized that "college training is the cornerstone for professionalizing" any industry (Carlan, 2006, pg. 59).
You should contact Jensen Private Investigations to discuss your needs right away, especially if you need evidence to prove your case. "Get the evidence your attorney needs to win!" © is not just a slogan but is your right to seek that evidence.
We work closely with attorneys, lawyers and clients to provide the evidence that provide favorable case solutions or which will mitigate risks at trial.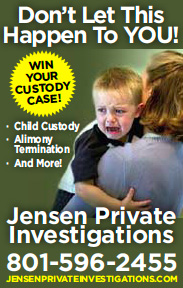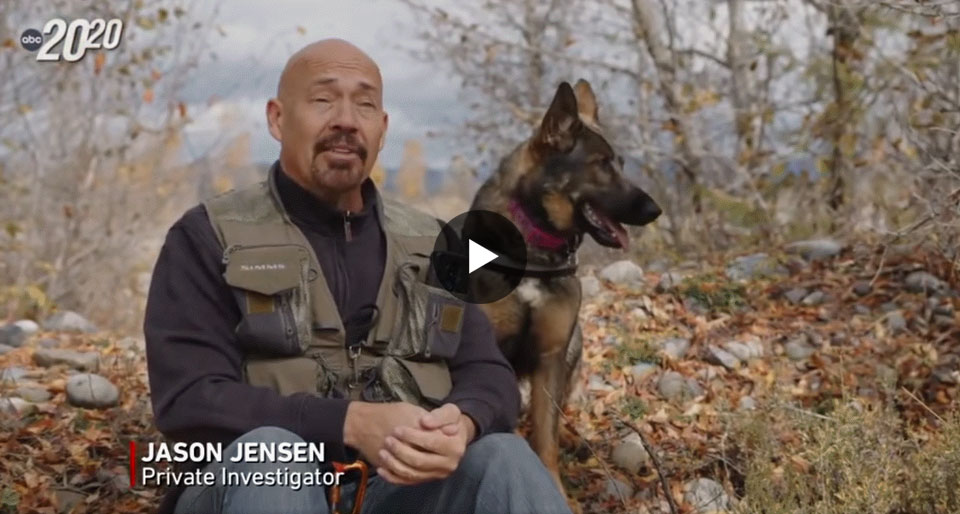 (Watch Jason Jensen on ABC 20/20 on finding Gabby Petito)
Experienced and knowledgeable, Jason K. Jensen is a college-trained and licensed private investigator in good standing. In addition to his criminal justice degree, he started as a certified paralegal with 13 years litigation experience from different private law firms. Prior to working in the private sector he interned for an assistant district attorney at the Salt Lake District Attorney's Office.
Unlike other private investigators from a law enforcement background, Mr. Jensen has unsurpassed understanding of law. In a study conducted in 2004 (Caitlin & Maupin, 2004), researchers found that second year police state troopers who were socialized by experience were better prepared to respond to ethical issues than first year police state troopers. Those findings suggest the recognized existence of error among police officers employed by agencies that employ its law enforcement officers with only a high school education.
In addition to a master's degree, Mr. Jensen's experience included countless hours of legal research, the preparation of thousands of court documents, the preparation of hundreds of trial exhibits, and countless interviews of witnesses and parties. The firms he worked for practiced in the areas of family law, criminal defense, civil rights, contracts, employment law, and personal injury.
Mr. Jensen is a member of the Utah Association of Criminal Defense Lawyers (UACDL), dedicated to promote the fair administration of justice. And, Mr. Jensen is a member of the Wyoming Trial Lawyers Association.
Mr. Jensen is a military veteran who served in the armed forces in the 1991 Gulf War. While serving onboard the U.S.S. Juneau (LPD–10), Mr. Jensen distinguished himself receiving three Navy Achievement Medals and by becoming the most junior petty officer ever to receive the coveted surface warfare specialist. In a single enlistment he advanced from an E–1 to a second class petty officer by passing the E–5 with a 100% test score. Being a leader is what Mr. Jensen is used to being; he still behaves that way today.
This is not an exhaustive list, but we are proficient at:
Civil Cases
---
Child custody cases
Alimony cases
Cheating spouse surveillance
Proving income
Fraud on the court
Criminal Cases
---
Records collection
Exculpatory evidence acquisition
Interviewing witnesses
Identifying affirmative defenses
Establishing an alibi
Private Investigator
---
Licensed and insured
Surveillances (including child custody and insurance)
Cheating spouses
Fraud detection and prevention
Locate missing persons
Witness location and interviews
Digital Forensics
---
Computer forensics
Discovery / recovery of deleted and hidden data
Mobile Devices (cell phones) Data Recovery
Deleted SMS messages (text messages)
e-discovery
Litigation support
Legal Expert
---
Constructive / reconstructive investigations
Crime scene analysis
Trial consultations
Trial risk management and court preparations
Affirmative defenses
Admissible evidence and exhibit preparation
Other Services
---
Deep background checks
Locating hidden assets
Finding missing persons
Crime scene and death scene analysis
For specific information concerning these areas of investigations, review the pages and articles published on this website.
References:

Caitlin, D. W., & Maupin, J. R. (2004). A two cohort study of the ethical orientations of state police officers. Policing, 27, 3: pp. 289-301.
Carlan, P. (2006). Do officers value their degrees? Law & Order, 54, 12 (Dec 2006): pp. 59-62.